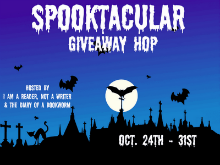 It's my favourite time of year–let the Halloween madness begin!

If you haven't already been reading the awesome posts that the Horror Writers Association blog, Dark Whispers, has been uploading every day as part of Halloween Haunts this October, stop by and see some of the posts from authors that have already gone up and comment on them for a chance to win the awesome giveaways being offered!
Speaking of giveaways, in honour of the spooky festivities, I am participating once more in I am A Reader, Not A Writer's Spooktacular Giveaway Hop, which can be found here and is linked in the image above, as well.
I am giving away one ghoulworthy prize pack, and the details are as follows:
Horror Library Volume 4 eds. RJ Cavender and Boyd Harris
Tattered Souls 2 ed. Frank J. Hutton
The Secret History of Poltergeists and Haunted Houses (non-fiction)
Man-Made Monsters (non-fiction)
The Devil's Coattails from eds. Jason V. Brock and William F. Nolan
In the Closet, Under the Bed by Lee Thomas
A Hundred Words for Hate by Thomas Sniegoski
Finding Poe by Leigh M. Lane
The Demon Lover by Dion Fortune
A signed copy of vampire novel Whitechapel Road by Wayne Mallows
Campfire: True Ghost Stories (non-fiction)
Where Shadows Lie: Bay City by J.E. Cammon
Phantom Armies of the Night (non-fiction)
Empire of Fear by Brian Stableford
Ursa Major by John R. Little
Monk Punk (anthology)
Unspeakable (anthology)
Wise Man's Fear by Patrick Rothfuss
Ghost Story (Dresden Book 13) by Jim Butcher
Here are the giveaway rules:
* One entry per person.
* One lucky winner will be named for this prize pack of goodies!
* Open to US and Canadian residents only.
* Starts October 24 and ends October 31 in accordance with the Spooktacular Giveaway Hop.
* (Optional) Bonus entry points if you add me on Twitter if you already haven't.
* Winners will be contacted and announced on November 2 in a separate post.
Good luck to everyone! Please comment only on this post to submit your entry.
Happy Reading!