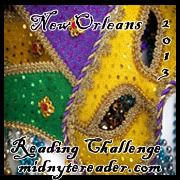 ---
This book review is part of the New Orleans Reading Challenge 2013, hosted by Midnyte Reader, which you can read more about here.
---
The Heavens Rise
by Christopher Rice
Gallery Books
$16.54 (Hardcover, Amazon) | $16.53 (Kindle)
336 pages
October 15, 2013
Review copy accessed on NetGalley
Plot Description:
New York Times bestselling author Christopher Rice brilliantly conjures the shadowed terrors of the Louisiana bayou—where three friends confront a deadly, ancient evil rising to the surface—in this intense and atmospheric new supernatural thriller.

It's been a decade since the Delongpre family vanished near Bayou Rabineaux, and still no one can explain the events of that dark and sweltering night. No one except Niquette Delongpre, the survivor who ran away from the mangled stretch of guardrail on Highway 22 where the impossible occurred…and kept on running. Who left behind her best friends, Ben and Anthem, to save them from her newfound capacity for destruction…and who alone knows the source of her very bizarre—and very deadly—abilities: an isolated strip of swampland called Elysium.

An accomplished surgeon, Niquette's father dreamed of transforming the dense acreage surrounded by murky waters into a palatial compound befitting the name his beloved wife gave to it, Elysium: "the final resting place for the heroic and virtuous." Then, ten years ago, construction workers dug into a long-hidden well, one that snaked down into the deep, black waters of the Louisiana swamp and stirred something that had been there for centuries—a microscopic parasite that perverts the mind and corrupts the body.

Niquette is living proof that things done can't be undone. Nothing will put her family back together again. And nothing can save her. But as Niquette, Ben, and Anthem uncover the truth of a devastating parasite that has the potential to alter the future of humankind, Niquette grasps the most chilling truths of all: someone else has been infected too. And unlike her, this man is not content to live in the shadows. He is intent to use his newfound powers for one reason only: revenge.
Review:
Niquette "Nikki" Delongpre is the protagonist of this Southern Gothic-influenced tale, set in New Orleans. We get her story through a mix of diary entries, flashbacks, and the current narrative. In essence, she's a popular girl in school but went out with an utter clod in high school. A complete nutbar, Marshall, pined for her, but is now in a psych ward. He's the other primary character of the book and drives most of it.
We also get introduced to Marissa, a reporter with a local paper, who's all too aware of the discrimination she faces as an educated woman of colour. She was involved with a big, pivotal scene involving Marshall at the beginning of the book and starts a reluctant working relationship with Niquette's best friend, Ben, who becomes a reporter intern, but was very badly affected by Nikki's disappearance. Nikki and her family disappear suddenly, and her ex-boyfriend, the clod, named Anthem, is depressed about it as well.
Marshall didn't try to kill himself, he says–he wants to pick off anyone who can oppose him or who was sent to investigate him, or so it seems. He also appears to have developed powers from the water near Nikki's house from a well that fell into the Longpre house. He's determined to get revenge on Nikki and all those she loves.
There seems to be a new trend in horror fiction in which parasites make people stronger and don't kill them, which I thought added a unique dimension to the book that swerved it in a direction I wasn't expecting (in a good way) ultimately leading to a more satisfying reading experience. The Heavens Rise is a slow burn that must be digested over time, and it takes time to percolate within the reader. Although Christopher Rice definitely has his own distinct voice, there is a flavour or seasoning of Anne Rice in here, which is also a good thing as fans of her will also like this book.
It's hard to describe why this book is so good, but it's an absorbing read with memorable characters. The lines are blurred between who is good and evil. There are shades of gray. There also isn't a generic cookie-cutter ending, and many interesting and predictable things happen.
I've been waiting for this kind of book from Christopher for a while, something in the fantasy genre, but subtle and literary. As well, literary fiction readers will enjoy this because it's not so "genre" that it will put them off but is definitely "genre" enough that genre fans will snap it up.