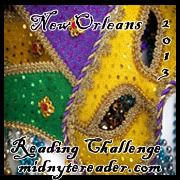 ---
This book review is part of the New Orleans Reading Challenge 2013, hosted by Midnyte Reader, which you can read more about here.
---
Elysian Fields (Book 3, Sentinels of New Orleans)
by Suzanne Johnson
$17.58 (hardcover, Amazon) | $15.79 (Amazon Kindle)
Tor Books
Release Date: August 13, 2013
Hardcover, 352 pages
Review copy received as part of the blog tour for Bewitching Book Tours. Don't forget to enter the Goodreads giveaway that's running until August 31, 2013.
Plot Description:
An undead serial killer comes for DJ in this thrilling third installment of Suzanne Johnson's Sentinels of New Orleans series.

The mer feud has been settled, but life in South Louisiana still has more twists and turns than the muddy Mississippi.

New Orleanians are under attack from a copycat killer mimicking the crimes of a 1918 serial murderer known as the Axeman of New Orleans. Thanks to a tip from the undead pirate Jean Lafitte, DJ Jaco knows the attacks aren't random—an unknown necromancer has resurrected the original Axeman of New Orleans, and his ultimate target is a certain blonde wizard. Namely, DJ.

Combatting an undead serial killer as troubles pile up around her isn't easy. Jake Warin's loup-garou nature is spiraling downward, enigmatic neighbor Quince Randolph is acting weirder than ever, the Elders are insisting on lessons in elven magic from the world's most annoying wizard, and former partner Alex Warin just turned up on DJ's to-do list. Not to mention big maneuvers are afoot in the halls of preternatural power.

Suddenly, moving to the Beyond as Jean Lafitte's pirate wench could be DJ's best option.
Review:
To say that I was dying to read the next installment of Suzanne Johnson's highly addictive Sentinels of New Orleans series would be a gross understatement. After the events of River Road (you can read my review here), I was really antsy to find out what happens next and this book more than delivered.
Our protagonist, DJ Jaco, starts off in the French Quarter with increasingly volatile and troubled loup-garou Jake. They're investigating a crime scene as a series of murders has been happening in the city that resemble killings committed in 1918-1919 by a serial killer who was never identified, but the local media called him the Axeman of New Orleans.
Things have (understandably) cooled down a bit between DJ and Jake because of his changing nature. The shift to loup-garou has had many negative effects on his life and he's lashing out more and more at those closest to him. Jake is even moodier this time around and everyone expects him to still be the same easygoing, flirtatious guy he was before, but he's not and he is having a hard time accepting that. I won't spoil what happens after a sour confrontation between the two, but suffice it to say it kicks DJ's life into overdrive and makes life even more complicated for her, as if she needs any more complications.
She summons famed jazz musician Louis Armstrong to help her with any clues about the Axeman, and it becomes evident that he didn't just show up for no reason in the present day. There's a shady necromancer working some seriously evil magic to shuttle the murderer back and forth from the past to the present. Soon enough, DJ becomes one of the Axeman's most important targets, which makes things even worse for her.
DJ's suspicions toward her best friend Eugenie's boyfriend, Quince Randoph, continue in this book and we finally get some more answers as to what he is, what he's doing, and what he wants with DJ. He also shamelessly flirts with DJ at every opportunity, much to her chagrin, as DJ is more interested in her former partner Alex Warin. Things intensify between them and for those readers who have been waiting for more to happen in DJ's love life, they won't be disappointed.
In addition, the Wizards Congress sends one of their guys, Hoffman, to teach her more Elven magic. Trouble is, he doesn't like DJ very much and may be hiding more than he lots on about where his true loyalties lie. Fan favourite Jean Laffite also returns, as charming as ever. He thinks he can help DJ with looking into the necromancer doing the summoning of the Axeman. There's also a major vampire character we're introduced to, Etienne, who we're told is in cahoots with Jean as they go way back. Etienne used to be a necromancer, but as the plot unravels more and more, it's not necessarily clear if he's the one behind the Axeman's killing spree, but the author casts enough doubt on him that the reader will not be sure if he's guilty or innocent until the very end.
As the story continues, the body count rises, and the Axeman gets ever closer to DJ. The tension between DJ, Eugenie, and Quince Randolph also increases until it finally blows up, but the reader will get a lot of interesting answers from the fallout.
If you were waiting for more explanations and an exploration of DJ's Elven heritage and connections, this installment in the series is going to be your favourite. Although I've previously said in other reviews that one doesn't see much of Elves in urban fantasy fiction, I think we're starting to see more of them, and although I wasn't expecting to find them in the Sentinels of New Orleans series, it's a nice treat, and the storyline absolutely works.
The further into the narrative the reader gets, the more irresistible and unputdownable this book will be. Eventually things come to a head with the true master of puppets coming out, but he lackey strings are incredibly tangled, which will make the inevitable books that follow this series even more addictive than this one. Things end on a more positive note although, as mentioned, there's definitely potential for more books in the series. If you haven't picked up this series yet and you're a big urban fantasy fan, or even if you don't normally read fantasy but love a good yarn involving the Crescent City, you should most definitely pick up the books in the Sentinels of New Orleans series, and so far, each one is better than the one that preceded it. Suzanne Johnson has become one of my absolute favourite fantasy writers–this lady knows how to spin a good yarn