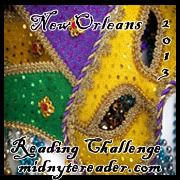 ---
This book review is part of the New Orleans Reading Challenge 2013, hosted by Midnyte Reader, which you can read more about here.
---
River Road (Sentinels of New Orleans, Book 2)
by Suzanne Johnson
$11.53 (Amazon, paperback) | $12.40 (Amazon Kindle)
TOR Books
Release Date: November 13, 2012 (original hardcover)
Review copy received from the publisher in exchange for an honest review
Please note, if you haven't read book one in the Sentinels of New Orleans series, River Road, you may wish to skip this review until you're caught up because I will be discussing some plot elements and spoilers!
Plot Description:
Hurricane Katrina is long gone, but the preternatural storm rages on in New Orleans. New species from the Beyond moved into Louisiana after the hurricane destroyed the borders between worlds, and it falls to wizard sentinel Drusilla Jaco and her partner, Alex Warin, to keep the preternaturals peaceful and the humans unaware. But a war is brewing between two clans of Cajun merpeople in Plaquemines Parish, and down in the swamp, DJ learns, there's more stirring than angry mermen and the threat of a were-gator.

Wizards are dying, and someone—or something—from the Beyond is poisoning the waters of the mighty Mississippi, threatening the humans who live and work along the river. DJ and Alex must figure out what unearthly source is contaminating the water and who—or what—is killing the wizards. Is it a malcontented merman, the naughty nymph, or some other critter altogether? After all, DJ's undead suitor, the pirate Jean Lafitte, knows his way around a body or two.

It's anything but smooth sailing on the bayou as the Sentinels of New Orleans urban fantasy series continues.
Review:
Before I start the review of River Road, I would like to commend the author for arranging for a percentage of the royalties from the book to go to the Greater New Orleans Foundation for its Gulf Coast oil spill fund as much of this book is set in Plaquemines Parish, which suffered tremendous damage during and after Hurricane Katrina.
Things kick off with our protagonist, DJ Jaco, at the historic Hotel Monteleone where notorious pirate Jean Lafitte, who we met in book one, is waiting for DJ. He's staying in the Eudora Welty suite, but although he's in the lap of luxury, he's got problems, namely two feuding merpeople clans. Jean and DJ's partner, Alex, still despise one another so DJ knows she'll have to limit their interactions, making for tension in the plot and on a romantic level.
Jean Lafitte is more endearing in this book and as he grew on me, I think that he will grow on many readers with his charm. Although DJ is still vehemently opposed to liking Jean, she does have to go out on a date with him as per their agreement from the first book, and she spends much of River Road denying that she has feelings for Alex, a shifter, mostly because she's gunning for Jake, who *spoiler alert* became a loup-garou at the end of book one. Let's just say he's not adapting particularly well. It takes her most of the book to realize that it's not going to be easy to maintain any kind of a relationship with him, let alone a romantic one. Alex spends much of the book treating DJ like his property, which pushes her away, but he also sends mixed signals, which confuse her.
Although I enjoyed DJ's romantic quandaries, it felt a bit odd to me to have Alex jealous of Jean Lafitte, with the implication being that he doesn't trust the pirate (and with good reason) but also he's threatened by the prospect of DJ choosing to be with Jean. But Alex doesn't seem jealous of DJ's interest in Jake, with whom she also has a date, and to further complicate matters, DJ has agreed to pose as Alex's girlfriend for an upcoming family reunion, but he does have feelings for her even if he's pretending not to. To be fair, at least Jake asks at one point whether there's anything between her and Alex, which made a bit more sense.
The merpeople are Cajuns, which adds good flavour to the cast of characters. As well, they have Houma Native American heritage, which makes them even more awesome. There are two families that are feuding, the Villeres and the Delachaises. We venture into bayou and swampland territory where they find a corpse on the shore who died in a particularly gruesome way, and DJ detects a wizard signature from it. We soon learn that there's more history between wizards and merpeople than initially revealed. I also liked that the loup-garou in this universe aren't just your average werewolves. They're larger and don't join packs, not to mention oher werewolves are scared of them. They also live in the Beyond, Johnson's alternate dimension where Old Orleans exists, as introduced in the first book. Loup-garous can also shift into their beast form in an instant.
There's also some Greek mythology mixed in this time with a nymph, as well as the River Styx (as in the one in the Underworld), and also an Elven Synod who don't like the fact that DJ, who is a wizard, can use Elf magic due to her heritage. They think the Elven staff she uses is one of four, belonging to the clan of the fire elves. No one else can claim or use the staff as long as DJ is alive, which seems to make the Elves even angrier. She even encounters one of the Elves, Mace Banyan, in the Beyond, and suffice it to say it's not exactly the most pleasant meeting.
She works closely with both merpeople clans, but in particular with Rene Delachaise, with whom she has to form a special bond. Things come to a head as the murders of wizards and a woman who claimed to be human but DJ suspected wasn't point increasingly in the direction of one person, and everything leads to an intense, suspenseful ending that makes me excited to devour the next book, Elysian Fields, as soon as I can.
If you want urban fantasy that incorporates New Orleans into the setting and makes it a character in and of itself in the book, you need to pick up a copy of River Road, and once you get to the ending, you won't be able to resist picking up Elysian Fields, for which I am participating in the blog tour as part of Bewitching Book Tours (it releases on August 13, 2013).